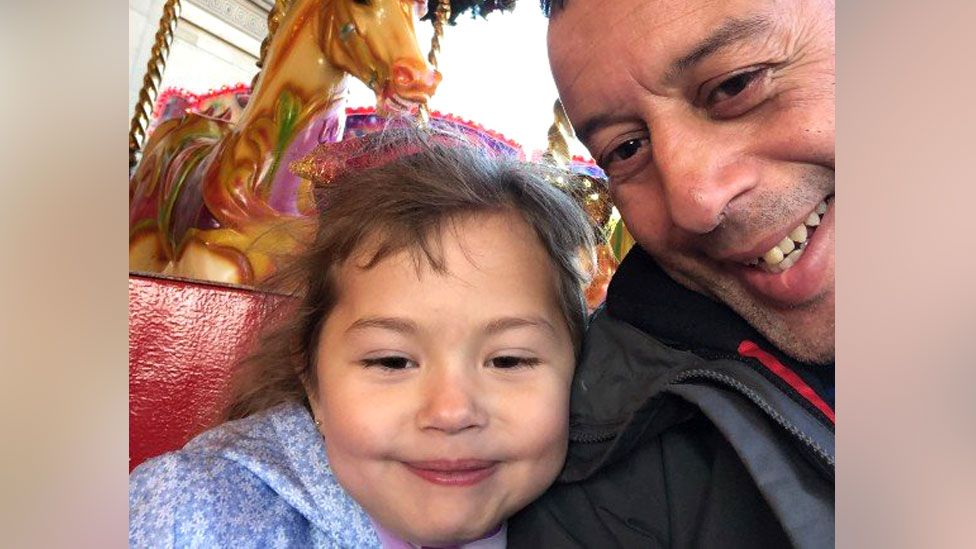 The dad of a nine-year-old girl who was shot in her own home has paid tribute to her, saying she was a "real bright spark who loved to laugh".
Olivia Pratt-Korbel was fatally wounded as her mum tried to stop a gunman chasing another man into their home in Liverpool on the evening of 22 August.
Olivia's father John Francis Pratt said her death cannot be in vain as he urged those with information to come forward.
Merseyside Police was given a further 36 hours on Monday evening to continue questioning the suspect, who was also arrested on suspicion of attempted murder.
The same extension was also granted regarding two men, aged 29 and 41, who were held on suspicion of assisting an offender.
A fourth man, arrested on Sunday night on suspicion of the same offence, is also being questioned.
In a statement from the wider family, Mr Francis Pratt said: "Words can't express the pain we are going through after Olivia was so cruelly snatched away from us.
"Those responsible need to know what they have done."
He described his daughter as a "real bright spark who knew her own mind" and who "loved to laugh and make people laugh".
"She could be a proper wind-up merchant and loved to wind her nieces up, particularly those who were older than her.
"And when they didn't like it, she'd just laugh and say 'don't forget I'm your aunty'."
He thanked those who had helped with the police investigation but pleaded for anybody else with information to speak to officers.
He added: "We know that most people on Merseyside are good-hearted and kind just like them and we all need to stand together.
"We don't want another child to lose their life in such horrendous circumstances and we don't want to see another family suffer like we are suffering now.
"Olivia's death cannot be in vain and we want people to feel safe and be safe.
"That can only happen if we all come together and make sure there is no place for guns, or those who use guns on our streets or in our communities."
Olivia was shot in the chest by a gunman who had chased convicted burglar Joseph Nee into her home on Kingsheath Avenue, Dovecot, at about 22:00 BST.
Neither of the men who entered the home had any links to her family.
Her mother Cheryl Korbel was shot in the wrist as she tried to shut the door on the gunman.
Olivia's funeral is due to take place at St Margaret Mary's Church in Dovecot on 15 September.
Her family has asked mourners to wear a "splash of pink" for the service.
A crowdfunding page set up to support Olivia's family has raised more than £40,000.
The BBC is not responsible for the content of external sites.